Moderator: mfarnham
"Talk - Action = Zero" - Joe Keithley
---
That's fantastic, and a real feather in the cap of our forward-thinking Council (whatever their other faults may be!) I'm increasingly proud of our lovely town and its open arms to two wheels.
Even if there are still a few growing pains—like this driver invading Dolly's personal space yesterday: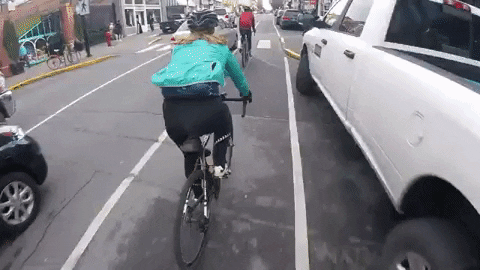 ---
Yikes!

Question: where physically-separated bike lanes are unavailable, why not use flashing LED lane markers? Drifting cars on the one side and open doors on the other are two of my greatest fears (followed by black ice, slippery roots, and Alan in drag).
---
Dolly, I'm impressed by your restrained hand gesture!
If anyone wants to give some feedback about the next phase of bike lane construction, you can shoot an email to the City here:
engage@victoria.ca
There's a fairly sketchy looking proposal for Richardson. As one gentleman put it in the CHEK broadcast lined below, it's basically a game of Chicken.
https://twitter.com/i/status/1204179714715242496
---
Interesting, that's what they do in the Netherlands on back country roads. Richardson is BUSY and not the kind of street it would work on. Feedback sent.
---